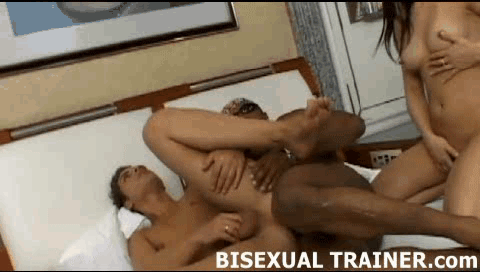 share gif:

See that black dude that's giving a huge level of pleasure to your Mistress? Yeah, well she's going to get you to pleasure him as well.

Listen, there's no reason to deny the fact that you absolutely love big black cock as much as you love pleasuring your mistress. Bisexuality is hot these days, so get on over and start to suck this thick ebony cock while he eats my pussy. Trust me; you're going to love every second of our threesome. This alpha male is going to teach you so much about pleasuring both men and women.

Do you see the way he takes control of the situation and fucks me good and hard? Oh, and let's not forget to mention that your ass is up for grabs too. How is it going to feel when he sticks that huge dick deep inside your tight, hungry asshole? As far as bisexual experiences go, this has got to be one of the hottest you've ever had. Now suck that dick and smile, my bisexual slave.